Jason Felix is a concept artist for the entertainment and digital gaming industries.
He has contributed work to Starcraft, Prince of Persia, Deadspace, Battlefield, and various other properties for companies of various sizes.
He is most significant for being the lead concept artist for Starcraft Ghost for which he conceptualized the Spectres, in bringing the character Nova to life and in revamped various assets within the the Franchise. Despite Starcraft Ghost still being held up in development, his concepts were re-purposed for Starcraft II and Expansions.
In MTG he is one of the lead concept artists for both Zendikar and Battle for Zendikar Blocks in conceptualizing the Eldrazi.
Jason currently lives in San Francisco with his wife Olivia Lopez and Cats in some secret hideout in the hills.... Ranching Monsters. Oh my!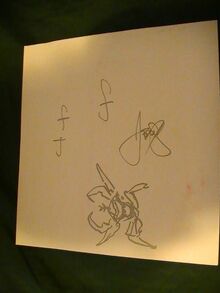 (Photo: Gary Jay's private holdings)
Ad blocker interference detected!
Wikia is a free-to-use site that makes money from advertising. We have a modified experience for viewers using ad blockers

Wikia is not accessible if you've made further modifications. Remove the custom ad blocker rule(s) and the page will load as expected.