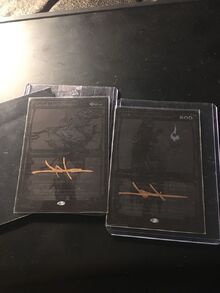 Jae Lee is an artist for the comic industry. He has contributed work for Marvel, DC, and various other publishers. His most notable work is for Before Watchmen, which chronicles each of the characters before the events of Watchmen.
In 2014 he did the SDCC Planeswalker set for that year's convention exclusive.
He has also won the Eisner award in 1999 for his work in Inhumans.
(Photo: Eric Banzon Collection)
Ad blocker interference detected!
Wikia is a free-to-use site that makes money from advertising. We have a modified experience for viewers using ad blockers

Wikia is not accessible if you've made further modifications. Remove the custom ad blocker rule(s) and the page will load as expected.