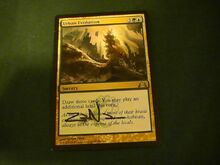 Eytan Zana is a current digital concept artist working for Naughty Dog LLC that is best known for the Uncharted Franchise and the Last of Us.
He has previously done various kinds of work for Universal Pictures, Zoic Studios, Art Machine, Red Button Entertainment, Digital Domain Media Group and Paramount Pictures.
He most recently wrapped up instructing art at Ottis College of Art and Design.
His significant contributions are Plains from Innistrad and Avacyn Restored, Wasteland for Eternal Masters, and the first major revisions of Scrubland and Lake of the Dead for MTGO.
(Photo: Gary Jay's private holdings)
Ad blocker interference detected!
Wikia is a free-to-use site that makes money from advertising. We have a modified experience for viewers using ad blockers

Wikia is not accessible if you've made further modifications. Remove the custom ad blocker rule(s) and the page will load as expected.