Cornelius Brudi is a graphic designer and one of the original 25 artists that contributed to the original set.
He best known as the most misattributed artist of all time when his piece for Ice Age was repurposed for the Base Set's Revised Edition's Plateau.
His other significant contributions include Mountain Goat and Pox for the Ice Age Expansion, and Wanderlust for the original set.
(Photo: Gary Jay's private holdings)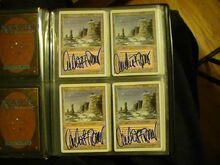 Ad blocker interference detected!
Wikia is a free-to-use site that makes money from advertising. We have a modified experience for viewers using ad blockers

Wikia is not accessible if you've made further modifications. Remove the custom ad blocker rule(s) and the page will load as expected.