Brian Horton is an Artist working for the E-Game Industry and is presently an Art Director currently working for Infinity Ward.
He has previously worked as Game Director and Senior Art Director on Rise of the Tomb Raider, Senior Art Director for Universal Games, Assistant Art Director for Disney Interactive and a lead Artist for Electronic Arts on Medal of Honor. He has also worked on various projects that have since been released or ended up as vaporware.
He is significant for doing the Weatherlight version of Buried Alive that has been heavily associated with the original Reanimation deck of the late1990's. He also did the original Razertooth Rates for Weatherlight, Deathwatch for Visions and Miraculous Recovery for Visions. Whether he had other contributions is not known at this time.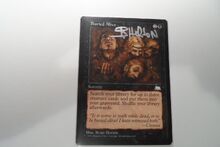 (Photo: Gary Jay's private holdings)