Anthony Scott Waters is a concept artist and illustrator for the world of fantasy illustration.
He uses both traditional and digital methods to produce his work, and is best known for Treetop Village, Windswept Heath, Wild Mongrel, Elephant Ambush, Gorilla Shaman, Hail of Arrows and Threads of Disloyalty.
He was born with a birth defect for which the fingers in his right hand were never developed. As much as it would have been a hindrance to most "normal people" he illustrates all his work using his left hand, while using his right hand as support compared to most of everyone else doing illustration.
At one point he worked directly for Wizards of the Coast the Arts and Creatives Department sometime after Hasbro had well established their presence within the growing company. During his time there, he worked on the conceptualization of the Rath Cycle (Tempest Block) and writing the story.
Between Mirrodin and Kamigawa Blocks, he did a small series of collaborations with illustrator Cara Mitten for which Mitten was never properly attributed for doing the work for them.
After leaving WotC behind, he worked on various book projects, game projects and taught illustration to up and coming artists who want to make it within the industry. When the 20th Anniversary book "The Gathering: Reuniting the Pioneering Artists of Magic" was being put together, he came back together with Jesper Myrfors and artists of the first sets to revise their original art for said cards and display how much progress they have made from then.
He presently lives in the Bellingham area of Washington still doing art, and at times work on music for the Woodbury Band.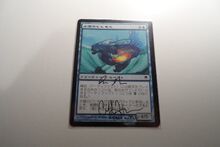 (Photo: Gary Jay's private holdings)
Ad blocker interference detected!
Wikia is a free-to-use site that makes money from advertising. We have a modified experience for viewers using ad blockers

Wikia is not accessible if you've made further modifications. Remove the custom ad blocker rule(s) and the page will load as expected.